When you become aware of suggestive language, you understand the blessing and curse of generic statements. The one I have noticed, with myself and others, is that what happens inside of the house, becomes the houses fault.
When you are on your way home and you have momentary bad feelings with the other people you live with, the generic statement becomes,
'I hate living in that house'
When what we really mean , is;
'I hate that at the moment, I do not want to be around the people I live with'.
When this is a lengthier time and we are going through quite a tough spot with our loved ones, then this house hatred becomes daily. And before you know it, the house becomes neglected in certain ways, we stop up-taking it as much, bits become shabby, and we do not immediately repair things as they break.
We then tut as we enter our poor little house, because our house is now not living up to our expectations. In our house we are moody, we slam doors more, we stomp around, all adding to the poor little houses vulnerability, as the front door drops and the handle loosens, because nothing you hold, is held with love.
The more we declare that 'we hate that house' the house becomes hated, and unloved, and the relationships within it tire ever so more, people blame each other for the unkept, unloved home, the relationships break along with the doors and the handles, and nobody feels like it is their job to fix them.
Then what we professed, what we directly designed, unknowingly, with our generic statements, we built a wall around the possibility that our house would be our home.
This does not just stand for houses, but for many of the grand generic statements that we make,
'I hate my job'
'I hate my brother'
'I hate my life'
'I hate my town'
'I hate my school'
All of this 'I hate' leaves you blinded by 'reality', you over focus on under 5% of something and call it 100%, and then you disease the 95% with how you feel about the 5% until it is a 100% 'reality'.
If you want to not have negativity taint your world by being generic, simply follow this rule:
BE GENERIC WHEN POSITIVE, BE NARROW AND FOCUSED WHEN NOT.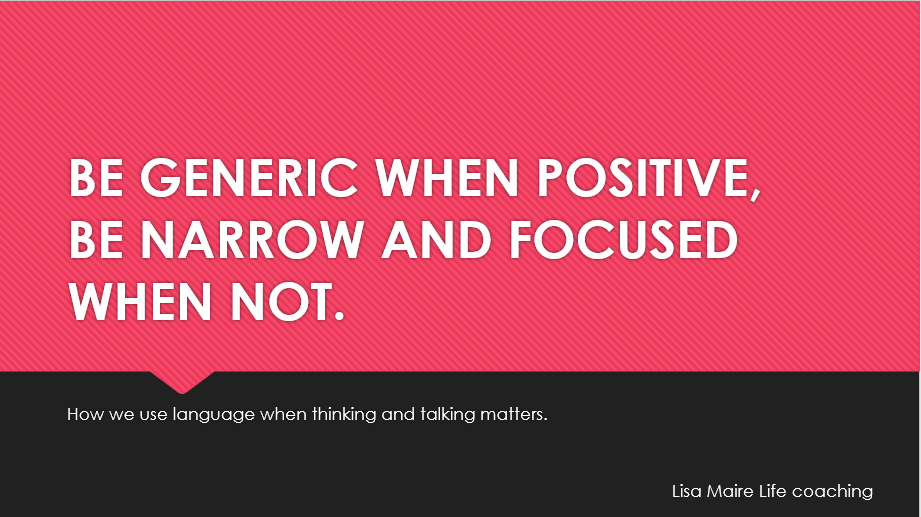 When you are being upset by the 5%, be clear about what you do not like, in your statement, and finish it with a positive generic wish of hope and a belief it will be solved, for example.
'I hate that at the moment, I do not want to be around the people I live with, I know that things change fast though and that most of the time I feel at home, we can solve this, I know I love my room and feel comfy when I…..(fill in the blank, and/or make this more about you).
It may seem a lot longer than the first generic statement, 'I hate my house', but defining reality, is not quick, and that is why we make generic statements, because they are fast and time efficient, but they ARE NOT emotionally efficient, when dome in such a negative way.
When we throw out the statement;
'I love my house'. we are infecting our 95% onto our 5% and we suddenly see no flaws, we see all of that abundance, we dance around our home, and gently lift our handles and push closed our door with a smile, and we ensure we respect where we live, and the people in it.
What we say, really does matter, and what we think matters so much more.
Being real is impossible, because there is no 'reality', only one view or another, posed by a framed way of seeing…
one that you can choose to frame, now go love that house 😉